Saint James' Church is blessed to have an exceptional group of dedicated people who faithfully serve our common life.
CLERGY: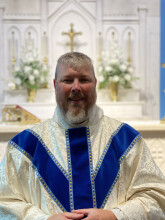 Fr. David Halt
Rector
E-Mail:

The Very Reverend David J.A. Halt was called to serve as the XXIII Rector of Saint James Episcopal Church of Texarkana, beginning August 1, 2020.

Fr. Dave came to us from the parish of St. Matthews, in Bloomington, Illinois, where he had served faithfully as Rector for the preceding ten years.
Fr. Dave was born in Toledo, Ohio and raised on a hog farm in Michigan. He attended a small high school where he was involved in theatre, football, wrestling, track, and forensics (debate). He is a graduate of Spring Arbor University (BA 1995), United Theological Seminary (MATS 2002), and Bexley Hall (MDIV 2003). Fr. Dave is currently a PhD Candidate with the Antiochian House of Studies.
Fr. Dave was ordained to the Priesthood on 19 June 2004 in Southern Ohio, and has served several congregations over the past 16 years. For 12 years he was a member of the Ohio Army National Guard, where he earned his spurs with the Cavalry.
He is a Rotarian and in their prior homes, has served community organizations in multiple capacities including board work and fundraising. He has served in various diocesan offices, most recently as Dean of a rural deanery, member of Council, and the Commission on Ministry in the Diocese of Springfield. In his spare time, he has coached football and baseball, officiated all levels of youth and high school football, and likes to read, enjoy outdoor activities, and do home improvement projects.
In 2022 he completed a trek to Everest Base Camp in Nepal.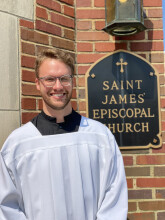 Fr. Daniel McCarley
Direct of Children, Youth, and Family Ministries
E-Mail:

Fr. Daniel is a born and bred Arkansan raised in Little Rock, now coming to Texarkana after time spent in Houston, Toronto, and Birmingham. He is pursuing ordination to the priesthood in The Episcopal Diocese of Dallas and is a graduate of Wycliffe College (Toronto), Beeson Divinity School (Birmingham), and John Brown University (Siloam Springs). Preaching, evangelism, and discipleship are among the aspects of ministry that most excite him. Outside ministry, you'll find Daniel outdoors: usually camping, kayaking, or rock climbing.
Daniel was ordained to the sacred order of Deacon in December 2022, and ordained to the sacred order of Priests on June 3, 2023 at Saint James' Episcopal Church of Texarkana, Texas.
Staff: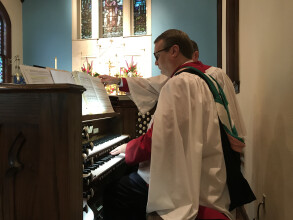 Andrew Clark
Parish Musician
E-Mail:

Andrew joined the St. James staff as Parish Musician in October of 2008. Andrew also serves as the executive director of the Texarkana Symphony Orchestra, a position he has held since April 2008, and on the adjunct faculty of Texas A&M University—Texarkana. Andrew holds the Bachelor of Music degree from Ouachita Baptist University and the Master of Arts in Music degree from the University of North Texas. Additionally, Mr. Clark has done post-graduate work in choral conducting, under James Jordan, at Westminster Choir College in Princeton, New Jersey; and in organ and hymnology at Southwestern Seminary, in Ft. Worth, Texas.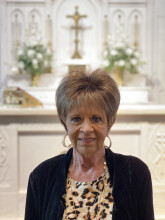 Sandra Kennedy
Parish Administrator
Office: 9037949227
E-Mail:

Sandra Kennedy has served for many years as the Parish Administrator of Saint James' Church, and is an indispensable part of our success. Part parish historian, part customer service guru, part personal assistant, and all around amazingly devoted and hard working friend, Sandra keeps the Clergy and people of Saint James' moving in the right direction.
FORMER CLERGY:
Saint James' is also blessed to have been home to many talented priests, both as rectors and curates. A few of these individuals are shown below.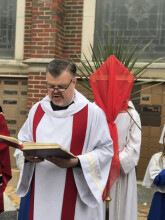 Fr. Douglas Anderson
The XXII Rector of Saint James
Fr. Doug faithfully served as the XXII Rector of Saint James' Church from February of 2004 until January 2020, when he was called to be the XVI Rector of Church of the Advent in Boston, MA .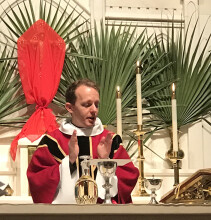 Fr. David Thompson
Former Curate (2016-2018)
Fr. David Thompson became Curate of Saint James' Church in July 2016, when he was ordained to the Priesthood, and served until 2018, when he was called to be Assistant Rector and supervising priest of Church of the Incarnation's North Campus, in the DFW Metroplex.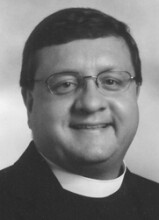 Fr. Richard Daly
Former Parochial Vicar
Fr. Richard Daly served as the parochial vicar of St. James' Church from February 2019 until July 2022. Fr. Daly also served as our Interim Parish Priest from January - August 2020 during the parish's search for a new rector. Fr. Daly retired from active Ministry in the Episcopal Church in October 2022.